Top 3 Amazon Landing Page Generators For Amazon FBA Sellers To Drive External Traffic
An Amazon landing page is a page that Amazon sellers use to promote their Amazon products and offer amazing customer service. A landing page is typically used to drive external traffic from social media sites, like Facebook and Instagram, towards a seller's Amazon listing.
Promotional landing pages usually ask visitors for information such as their email address in exchange for a voucher code that they can use on a particular product in an Amazon seller's store, or for the store as a whole. A customer's email is a useful piece of information to have, and it's largely non-invasive. It allows a seller to engage with more potential customers by offering them discounts or letting them know when their store is having a sale.
In this article, we will discuss 3 Amazon landing page generators that we recommend. A landing page generator is software that belongs to a third-party company (not you or Amazon), who can help you create an Amazon landing page, that you can then customise to fully promote your product listing as much as you'd like to.
The advantages of using an Amazon landing page generator
By using an Amazon landing page generator, you will be able to create a responsive and mobile-friendly Amazon landings page within minutes. There are several major advantages of using an Amazon landing page generator, such as:
Trackable traffic – to help you keep track of all of your views and where they're coming from.
Viewable ad performance – to ensure that your ads and campaigns are doing well, and not wasting your money.
Easy customer service – when your customers enter their email address on your Amazon landing page, they get an automatic email with a voucher attached.
Expanding your consumer base – capturing a potential customer's email before they make a purchase, allowing you to market to them directly.
A lessened workload – to populate the fields required for your product page, simply put in the ASIN number that is provided by Amazon, and all fields will be populated automatically. (Including images and videos.)
The best 3 Amazon landing page generator products for Amazon FBA Sellers
In this section of the article, we'll introduce you to our 3 top Amazon landing page generators, which are perfect for Fulfilled By Amazon sellers looking for something a little more personalised to offer their customer base.
1. Amzpromoter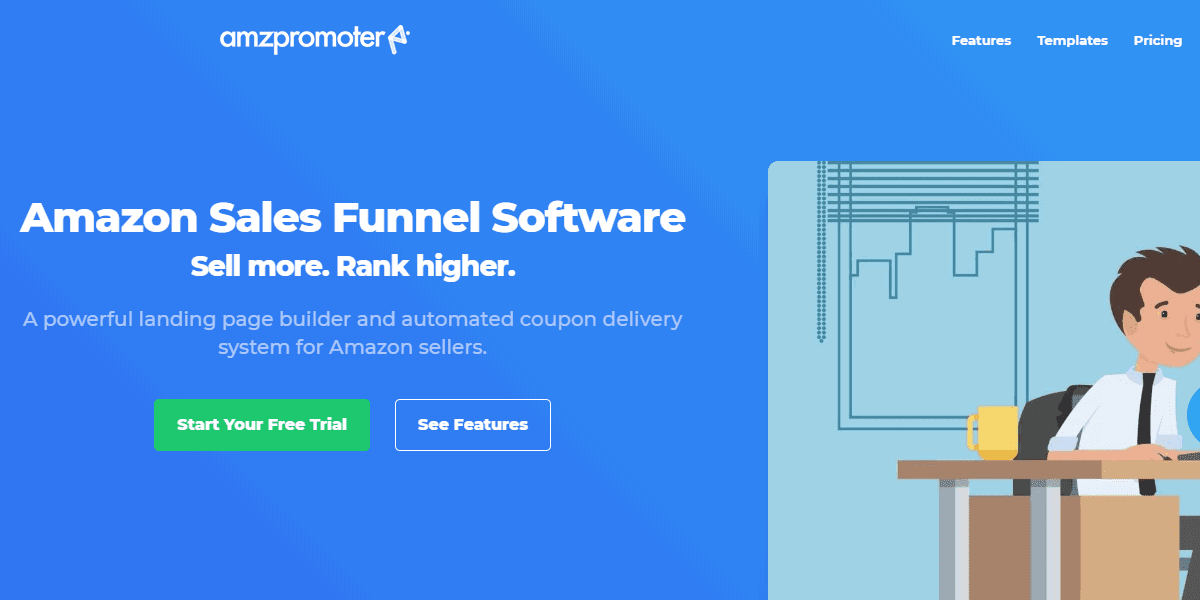 Amzpromoter can build an Amazon landing page that is 100% mobile responsive with their user-friendly landing page wizard. You'll be able to send your external traffic from Facebook, Google, and even your email contacts to your Amazon landing page with ease, and once your visitor has input their email, you can automatically send them an Amazon coupon for your store, with instructions on proper purchasing and usage of the coupon. Pricing starts from $25 a month.
2. ZonPages
ZonPages will help you build a stunning Amazon landing page to drive your external traffic to your Amazon listings and help you improve your business sales. No coding is required, and you don't need to be a design expert to make beautiful Amazon landing pages. You can add images, upload videos to your page, add a logo, and even cross-market your offers from other sites. With ZonPages, it's simple for you to distribute your discounts and coupons across new and existing customers, while collecting their emails for future marketing uses (including requesting reviews from real, organic resources). Their starter package is just $19.95 a month, if you only require a landing page for your Amazon products.
3. LandingCube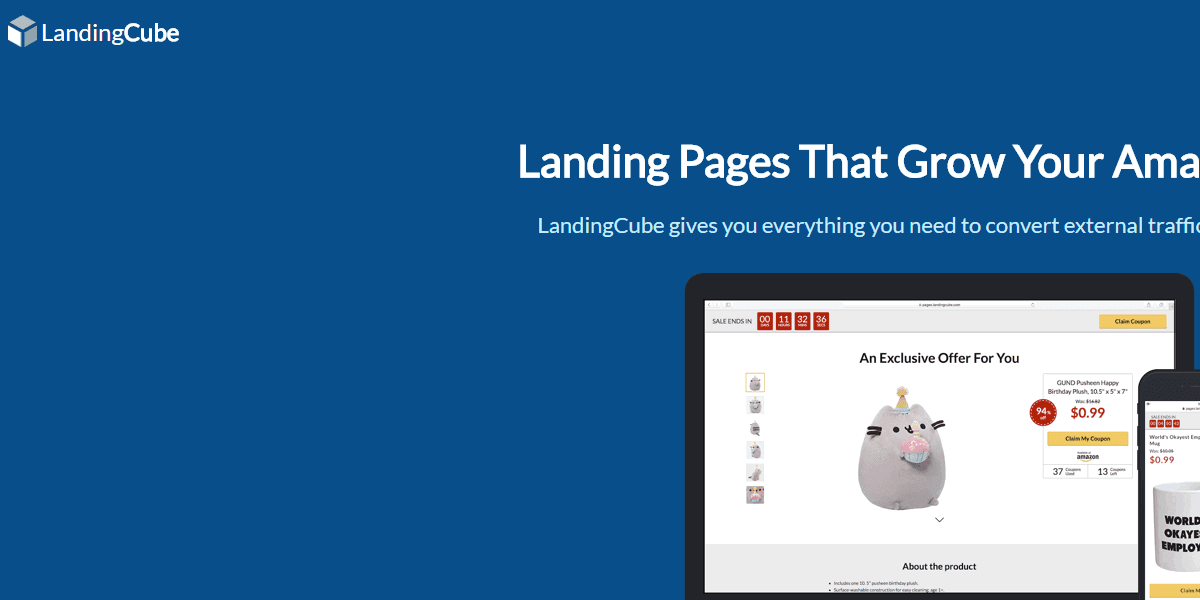 LandingCube is an efficient Amazon landing page generator. Their goal is to help you build a brand and grow your sales through organic traffic from your external sites; you can even link your landing page from your personal blog! By paying attention to your customer service and the ways you can gain more sales from your other sites, your can improve your rankings and take control of the data that you have from your customers. LandingCube's most popular offer is their Business package, which is $25 a month, paid annually at $300. It offers unlimited Amazon landing page creation, and all of the features to go with it, as well as priority support from their team.
FBA Amazon sellers often feel that their businesses start stagnating after they've been selling for a few months. An Amazon landing page could be exactly what you need to break down the wall in front of you. Enquire today with any of these companies, and see how quickly your business can grow.
https://scaleforetail.com/wp-content/uploads/2017/03/lp-blog-1.jpg
924
930
Kae-Ley Morris
https://scaleforetail.com/wp-content/uploads/2020/04/SFE-1-PNG.png
Kae-Ley Morris
2017-03-07 19:30:02
2022-07-10 11:22:53
Top 3 Amazon Landing Page Generators For Amazon FBA Sellers To Drive External Traffic